Innovation and highest quality standards
FLEISCHMANN relies on the highest quality and craftsmanship. The combination of high engineering expertise with the precise and accurate work of qualified employees characterizes the true to the original FLEISCHMANN models. More than 900 qualified employees contribute to the success of the FLEISCHMANN brand and operate at five sites.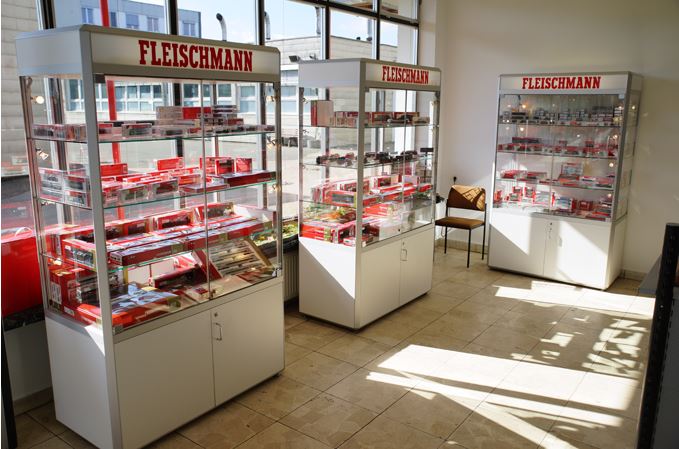 FLEISCHMANN site in Banská Bystrica (Slovakia)
Banská Bystrica is the competence center for surface finishing. Most miniature vehicles are given the final paint job at this site. They also undergo pad printing and digital printing processes to get their final realistic look. In the field of digital printing, FLEISCHMANN is now a leader in the model railway industry due to years of research and development.

Part of the FLEISCHMANN tool manufacturing and locomotive assembly is also there.
FLEISCHMANN site in Arad (Romania)
The state-of-the-art FLEISCHMANN plant in the Romanian city of Arad mainly produces locomotives and a large part of the company's wagon program, as well as most of the H0 rails and digital components. Qualified FLEISCHMANN employees build meticulously from several hundred parts, FLEISCHMANN locomotives and wagons are then thoroughly tested and undergo strict quality control. Our location in Arad was the first company in the model railway industry to receive ISO 9001 certification by the German DQS GmbH for its high-quality standards.

Furthermore, the FLEISCHMANN factory in Arad also has a small print shop. The location of Arad is considered the industrial center of Romania and forms an important transport hub in Europe which is an additional feature of the ISO-certified FLEISCHMANN production site.

FLEISCHMANN site in Ho Chi Minh City (Vietnam)

Our new location is in the metropolis of Ho Chi Minh City, the economic center of Vietnam. Since the end of 2016, the wagons from the starter-program as well as simple locomotives have been produced in this FLEISCHMANN plant. From injection molding and painting to printing and final assembly, the complete FLEISCHMANN models are produced here. The miniature models undergo the same quality controls as they do in all European plants, so a consistently high-quality standard of FLEISCHMANN Modelleisenbahnen can be ensured worldwide.